Here are profiles for the 15 main Ham-Hams written by Mimitchi and Beasty-kun. All images were drawn by Mimitchi, so please don't take them.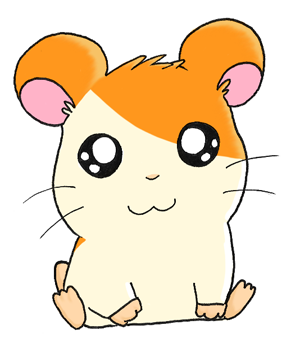 English Name: Hamtaro
Japanese Name: Hamutaro
Gender: Boy
Birthday: August 6th
Star sign: Leo
Height: 8.6 cm
Owner: Laura

Hamtaro is the star of the show. He is owned by a 5th grader named Laura. Secretly, he tries to keep Laura safe and happy. In the first episode, Hamtaro finds a way to sneek outside of his home. This becomes his gateway to the Ham-Ham Clubhouse. When he meets the Ham-Hams, his brave and adventurous spirit make him a hero among his them. Hamtaro doesn't seem to understand completely how "love" works, and is oblivious to Bijou's admiration of him. Nevertheless, he cares for, and enjoys being with his friends.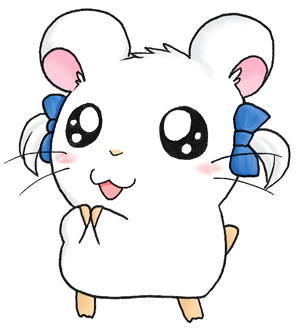 English Name:
Bijou
Japanese Name:
Ribbon-chan
Gender:
Girl
Birthday:
July 10th
Star sign:
Cancer
Height:
7.5 cm
Owner:
Maria
Bijou is the sweetheart of the group. She moved to Japan from France with her owner Maria, who is an outstanding pianist. She and her owner live in a large mansion. Ever since the very first episode, Bijou developed an enormous crush on Hamtaro, which is obvious in the episodes "Bijou's Favorite Ribbon" and "Come out Bijou!", and many more.
Although she knows alot about love, she doesn't seem to understand how much Boss loves her. She has a cute french accent (but I don't really like it :P) in the english version, and always wears her blue ribbons. The ribbons are her favorite, because Hamtaro once said they look really good on her, no matter how muddy they became.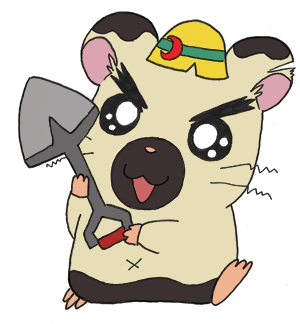 English Name:
Boss
Japanese Name:
Taisho-kun
Gender:
Boy
Birthday:
September 21st
Star sign:
Virgo
Height:
12 cm
Owner:
No one
Boss is the leader of the Ham-Ham gang. He previously lived in the club house alone, untill Snoozer mysteriously moved in. He's tough and gruff on the outside, but has a big heart and cares deeply for all his friends, especially for Bijou. Boss has a humongous crush on Bijou, and would do anything to win her heart. Sadly, his shyness makes the task difficult, and he never confesses his feelings to her.
He's very fit and often encourages his friends to engage in exercise. This athletic prowess is shown in Episode 28, when he races against Auntie Viv during Laura's school marathon.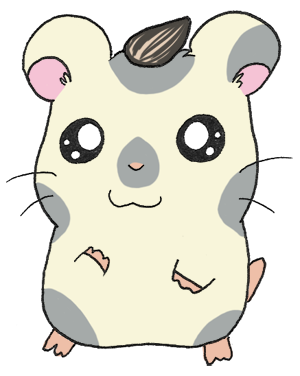 English Name:
Oxnard
Japanese Name:
Koushi-kun
Gender:
Boy
Birthday:
May 3rd
Star sign:
Taurus
Height:
10 cm
Owner:
Kana
Oxnard is the first hamster Hamtaro meets and becomes friends with. Oxnard is also a loyal hamster, that is always hungry. He carries around a sunflower seed with him, so that he can eat whenever he feels like it. When he loses his sunflower seed, he breaks down in tears and will stop at nothing to find it. When he and Hamtaro visit Pepper, a hamster who lives on a farm, he works his strength up enough at the end of the episode to tell her how he feels. Pepper and him eventually become a couple and get married in the last episode.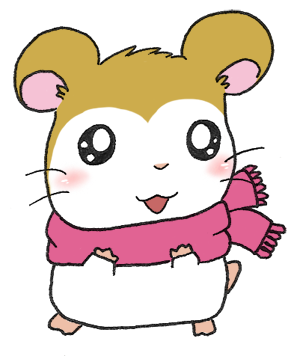 English Name:
Pashmina
Japanese Name:
Mafura-chan
Gender:
Girl
Birthday:
September 16th
Star sign:
Virgo
Height:
7.3 cm
Owner:
June
Pashmina is one of the most considerate hamsters in the clubhouse. She always looks out for others, especially her best friend Penelope. Her name is a reference to the pink scarf that her owner June knit for her. She's a bit of a crybaby, as seen in episode 7, when she thinks that her search for "flowers in the sky" was all for naught. (These "flowers" turned out to be fireworks!)
She ignores Dexter and Howdy's constant fighting for her love, because she believes she is way to young to be into that "lovey-dovey" stuff.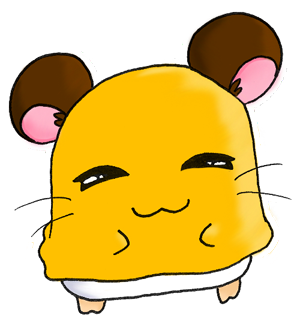 English Name:
Penelope
Japanese Name:
Chibimaru-chan
Gender:
Girl
Birthday:
March 3rd
Star sign:
Pisces
Height:
6.2 cm
Owner:
Kylie
Penelope is the youngest of the Hamsters, and the cutest! She is still a baby, and can only utter a few things like "Okyoo" and "Okwee". Because she is very shy, she always wears a yellow blanket on top of her head. Her best friend is Pashmina, who acts like a mother to Penelope. It has been confirmed in Japan that the two are actually sisters, which explains the close friendship between their owners, June and Kylie.
She has a tendency to "fall in love" with animals from other species, such as Herbert the pig and a rabbit. Often getting into trouble, she's a bit of a damsel in distress, but the Ham-Hams are always there to save her.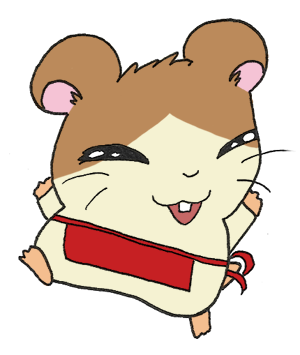 English Name:
Howdy
Japanese Name:
Maido-kun
Gender:
Boy
Birthday:
February 18th
Star sign:
Aquarius
Height:
8.5 cm
Owner:
Goldie
Howdy is a joke-telling hamster, even though his jokes rarely make anybody laugh. Just about every episode features him annoying the Ham-Hams with his loud, Southern accent. He wears a red apron and carries around a broom for cleaning up, and is sometimes seen with a wooden abacus. He is constantly at odds with his best friend Dexter, because they both hold a passionate love for Pashmina. Neither of them manage to win her over though.
Their love-hate relationship mirrors that of their owners, Curtis and Goldie.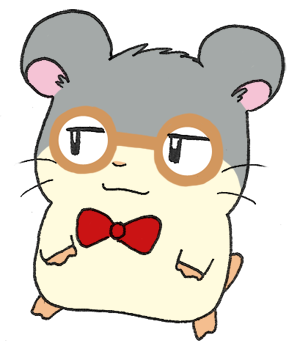 English Name:
Dexter
Japanese Name:
Megane-kun
Gender:
Boy
Birthday:
October 11th
Star sign:
Libra
Height:
8.7 cm
Owner:
Curtis
Coming from an eye-glass shop, Dexter is easily recognizable by the markings on his fur. He has a somewhat posh attitude and can't stand the antics of his best friend Howdy. Always good-mannered, he makes a point of being a gentleman, especially to Pashmina. He, along with Howdy, will do anything to please her, including babysitting Penelope for an entire day, which lead to a whole more trouble than expected!
Despite their disagreements, he and Dexter are always there for eachother, and if one is in trouble, the other will go out of his way to help.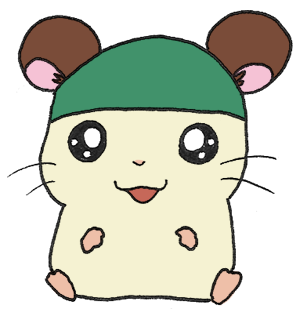 English Name:
Cappy
Japanese Name:
Kaburu-kun
Gender:
Boy
Birthday:
August 6th
Star sign:
Leo
Height:
7.7 cm
Owners:
Kip and Sue
Cappy is the second youngest Ham-Ham in the gang. The green cap he wears is a mark of his love for hats. He dislikes being spoiled by his owners and looks up to Boss because he is a field hamster, free and independent. He's always looking for new hats to add to his collection, including sea shells!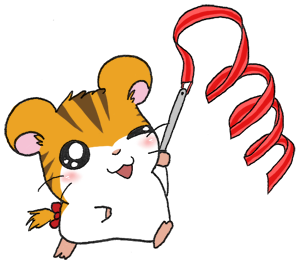 English Name:
Sandy
Japanese Name:
Torahamu-chan
Gender:
Girl
Birthday:
June 6th
Star sign:
Gemini
Height:
7.5 cm
Owner:
Hillary
Sandy's the most athletic Ham-Ham in the gang, rarely seen without her prized pink ribbon. Her passion is rhythmic gymnastics, like her owner, Hillary. She speaks with a valley girl style, often inserting "like" and "totally" into her sentences. Her best friends include Bijou and Pashmina (accompanied by Penelope), and the four are usually seen together. Starting at episode 13, Sandy develops a huge crush on Maxwell, and luckily, her love does not go unrequited. From then on, they're considered an official couple.
Sandy also has a flirtatious twin brother, Stan. They were separated when they were babies, but can still see eachother via the clubhouse.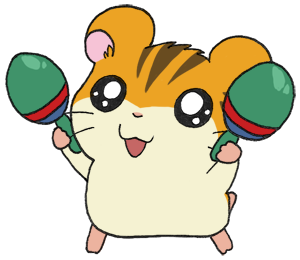 English Name:
Stan
Japanese Name:
Torahamu-kun
Gender:
Boy
Birthday:
June 6th
Star sign:
Gemini
Height:
7.5 cm
Owner:
Noel
Say hello to Mr. Popularity! If Stan went to Heaven, he'd probably end up in Vegas with an unlimited population of beautiful girls. If he isn't flirting with Bijou, Pashmina or some other girl, he's often found shaking his favorite pair of maracas, or skateboarding. He doesn't always see eye-to-eye with his twin sister Sandy, who will ensnare his tail with her ribbon and drag him away from whoever he's flirting with. Stan has a penchant for trouble, as he always wants to be the center of attention. (Like in episode 23, when he "sails" away on a frozen pond, leading Boss to run after him and break the ice.)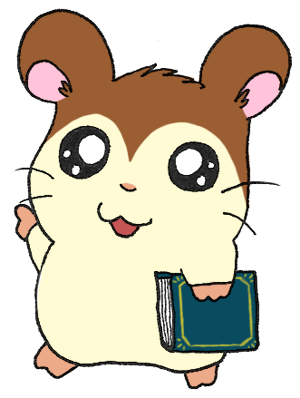 English Name:
Maxwell
Japanese Name:
Noppo-kun
Gender:
Boy
Birthday:
November 5th
Star sign:
Scorpio
Height:
10.5 cm
Owner:
Yume-chan
Maxwell loves to read books. As a result, he knows a great deal about the world and gladly educates his Ham-Ham friends. He never doubts his knowledge, even though it sometimes isn't accurate. He's the editor of the Clubhouse's official newspaper, The Ham-Ham Times, and initially worked his team mates to a frenzy, not deeming any of their stories acceptable. But when he almost falls into a drain, the Ham-Hams are there to help him out, and a wonderful rescue story becomes front page news.
Early in the series, he falls in love with Sandy, but he can sometimes be an awkward boyfriend, and doesn't always understand Sandy's feelings.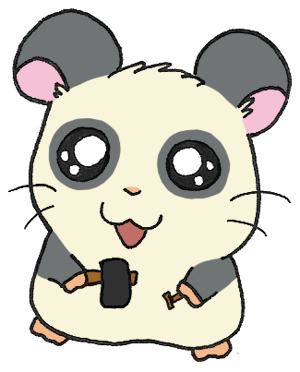 English Name:
Panda
Japanese Name:
Panda-kun
Gender:
Boy
Birthday:
April 8th
Star sign:
Aries
Height:
8.8 cm
Owner:
Mimi
Panda's the creative mind of the group and is the architect behind the Ham-Ham Fun Park. Whenever something needs fixing, you can count on Panda and his trusty hammer to do the job! He also built The Ham-Ham Express, a pedal-powered train that brought the Ham-Hams up a mountain to join Laura's field trip. He dreams of being becoming a carpenter.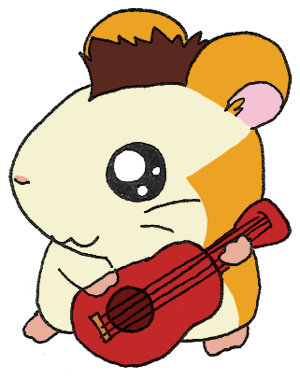 English Name:
Jingle
Japanese Name:
Tongari-kun
Gender:
Boy
Birthday:
December 12th
Star sign:
Sagittarius
Height:
8.5 cm
Owner:
No one
A lone, guitar-playing wanderer, Jingle sometimes shows up to offer strange bits of advice to the Ham-Hams, usually in form of poetry or songs. He has a habit of mispronouncing Hamtaro's name, from Ham n Eggs to Hambozo. He is often seen travelling with Herbert the pig. The Ham-Hams always have trouble understanding what he's saying, often disregarding his words until they come in useful.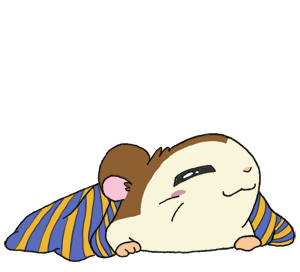 English Name:
Snoozer
Japanese Name:
Neteru-kun
Gender:
Boy
Birthday:
January 14th
Star sign:
Capricorn
Height:
8.5 cm
Owner:
No one
Snoozer sleeps all day long in his blue and yellow sock, only waking to offer the Ham-Hams short bits of advice. It is shown that he can sleep through anything, even when the Ham-Ham Clubhouse gets flooded, or when it gets invaded by the Chicky Chickies. In episode 20, the Ham-Hams confuse him for Omar, a prince from a far away land. They look exactly alike, but bear no relation. Snoozer's background remains a mystery, as he was only discovered sleeping in the clubhouse soon after it was cleaned up.